A daily ritual you will finally enjoy!
Bonus Offer:
A Free Calcium eGuide valued at $14.99
Why Go with BariMelts Calcium?
As you begin this new chapter of your life, we want to make things easy. Our goal is for you to look forward to taking your vitamins rather than making it an unpleasant experience. With BariMelts you can say goodbye to large, bulky chewable or horse pills.
Our Calcium contains vitamin D3 to support your body with calcium absorption and Calcium Citrate which is a natural form of Calcium and is generally well tolerated. Our formula is easy to take and can be taken on an empty stomach.
We work to make sure all active and inactive ingredients in each table are of the highest quality.
BariMelts Calcium + FREE Calcium Guide
Don't kill your wallet trying brand after brand
120 Fast-Melting Tablets
Comprehensive Calcium Food eGuide
Don't Forget Your Free Gift - the Comprehensive Calcium Food Guide!
Don't Forget Your Free Gift
The Comprehensive Calcium Food eGuide!
Valued at $14.99
To make things even easier on your weight-loss journey, we put together a guide of the 20 best sources of calcium into one comprehensive guide.
In this guide, you'll learn about the 20 best calcium-rich foods that will fit perfectly with your new lifestyle. You'll learn about foods that you didn't know are packed with calcium, along with nutritional information and a detailed look at each food!
A short, easy-to-read guide that will teach you everything you need to know to keep your calcium levels where they need to be.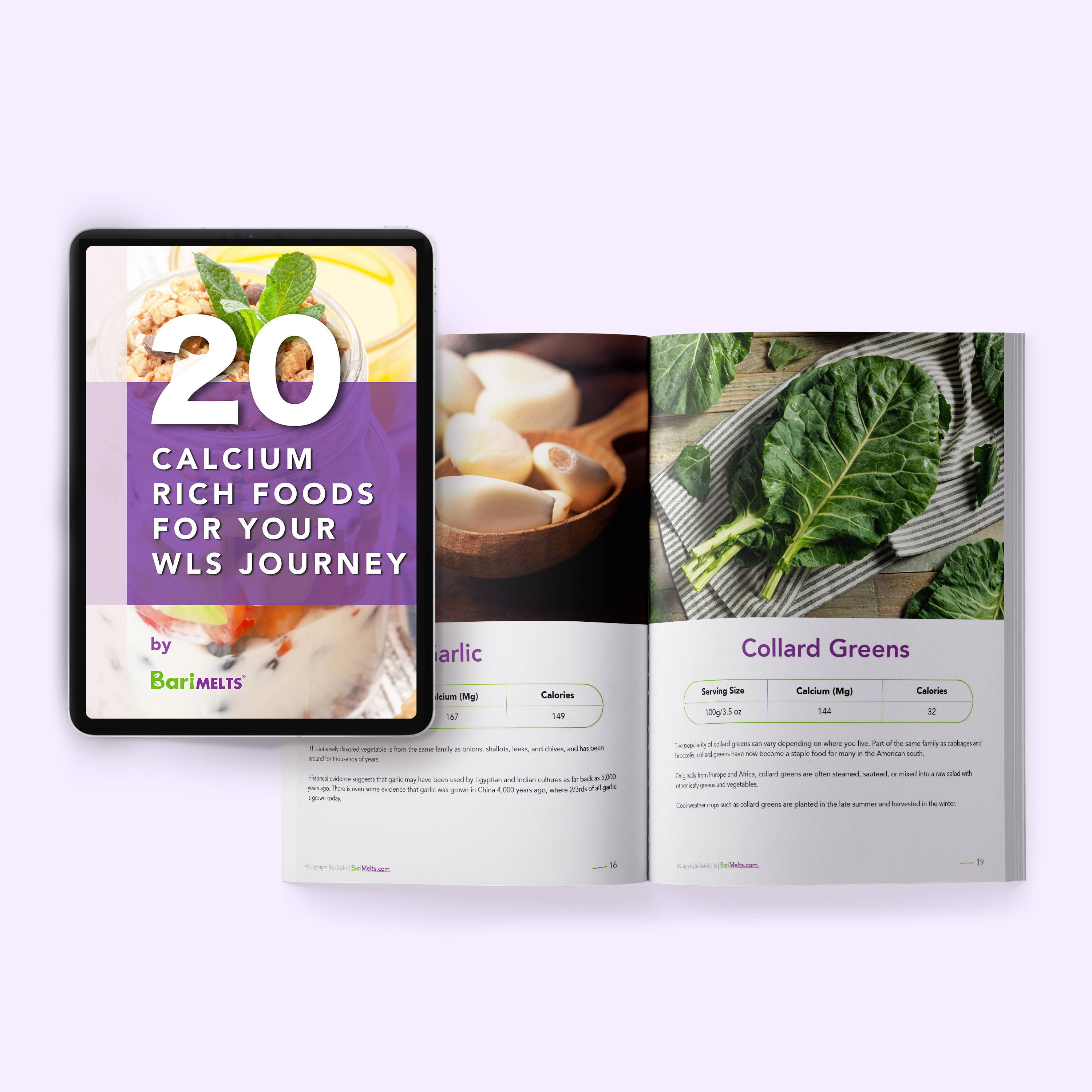 I was in search for an calcium citrate vitamin that had a great taste and not make me sick to my stomach. Well, I have found it! I'll be a life long buyer to this product! 🙂
Review by Cassandra F.
on 3 Apr 2022
I purchased BariMelts as they were recommended because as a replacement for the other chewable calcium supplements had been out of stock for some time. I'm happy with my purchase as they're flavorful and melts easily…
Review by Laura F. on 9 Dec 2021
These are amazing. I got so sick of everything being chewy. These were the perfect alternative. Thank you Barimelts!
Review by Jennifer E. on 24 Dec 2021
I like the taste and how they melt fast in your mouth. Without leaving a chalky taste in your mouth
Review by Maria C. on 29 May 2021
BariMelts Calcium + FREE Calcium Guide
Taste more like a treat than a supplement.
120 Fast-Melting Tablets
Comprehensive Calcium Food eGuide
Don't Forget Your FREE Gift - Ultimate Iron eBook!